The historic Cannock Mill to the left is adjoined by a new external lift tower and a group of six flats. Behind the houses to the right are individual terraced gardens and shared growing spaces. The adjacent Bourne valley is a nature reserve and the whole site is surrounded by trees and wildlife – all this just a 20 minute walk to Colchester city centre (or 5 minutes on the bus).
We are lucky to have a gym, with a pool, and good local shops and café close by. Footpaths by the site allow easy walking either up the Bourne valley or down towards the River Colne.
Mill pond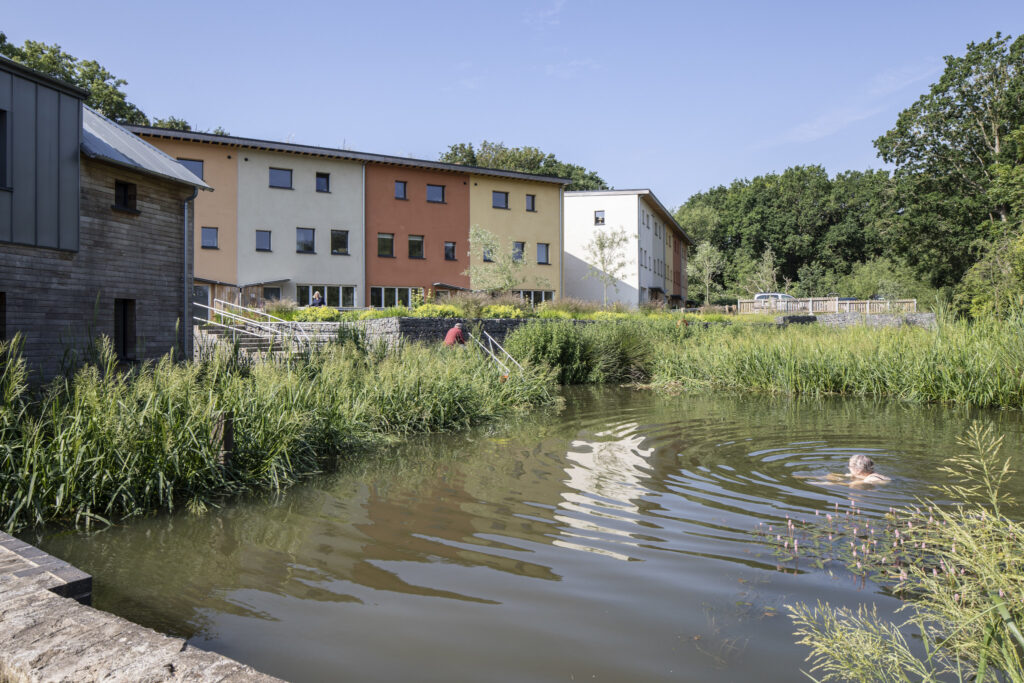 The focal point of the site is a large pond overlooked by the common house. The deck beside the pond is a favourite spot to socialise; there are also quieter spaces around the pond where we can sit and relax and enjoy the varied wildlife including moorhens, dragonflies, frogs and the occasional heron.
Gardens
Rain garden beds alongside Cannock Mill Rise not only look beautiful but play an important role in the Sustainable Drainage System (SuDS) to decrease surface water run-off on our sloping site.
Throughout the grounds there are areas we can gather for different activities: beneath our huge willow tree is a great place to sit in the shade or have summer meals; a small ginkgo grove is an ideal spot to sit and catch the evening sun; a lawn is sometimes used in the summer by the meditation group, or for sitting round a fire pit in the evening; we play boules along the path by the pond and table tennis in the car park.
Vegetable plot
We are developing a large vegetable plot where we will produce fruit and veg for the community. At the corner of this area there are composting bins, a shed and wood store. On our voluntary work days many of us are out doing all kinds of tasks from pulling reeds out of the pond to planting and weeding – these days are fun, help us keep fit and always include cake as an added incentive!
Shared storage
In what we call 'the undercroft' we have our communal rubbish and recycling area, a secure bike store and workshop space, and some garages, temporarily storing all manner of things.